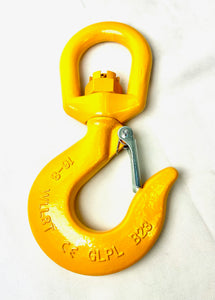 Grade 80 Swivel Hook with Latch
Features: 
Size: 16mm
WLL: 8TON, Breaking load: 32TON (4 times of WLL)
Grade: 80 (T8)

Test certificate supplied upon request

AS3776 

Compliant

Marked: Size/Grade/Manufacturer Code/Tracking code
Size available:
6mm WLL 1.12ton
7/8mm WLL 2.0ton
10mm WLL 3.15ton
13mm WLL 5.3ton
16mm WLL 8ton
Tips:
The breaking load is four times the working load. When in operation, pay attention to the working load, any incorrect operation may cause injury. Never overload the WLL when applying hooks for lifting purposes!