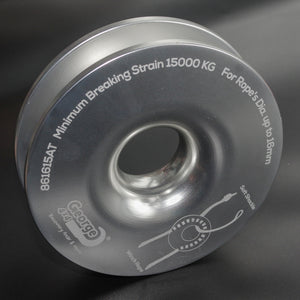 George4x4 Recovery Winch Ring
A Snatch pulley ring is an ideal alternative to a traditional snatch block. It's designed to fit soft shackles and synthetic winch ropes. It's lighter, smaller, and safer with no sharp edges.
Description:
Curved surface and wider groove, less friction to ropes and soft shackles. Lighter, safer and more durable. The ring is thicker and better yet remains the same price! A great upgrade with no rise in the price!
Features:
Breaking

strength

 of 15000kg, strictly tested in Australia by NATA-certified lab
Solid aluminium machined and polished
Outer diam 125mm, inner diam 32mm
Rope running up to 16mm
Net weight: 0.73kg
Item # 861615AT
NOTE: Our snatch pulley rope ring is only suitable for soft shackles, not for steel shackles. For the safety of the recovery operation, please don't use any other steel Cables/winch line.