George4x4 Bridle Equaliser Rope Full Sheath
The George4x4 Bridle Rope is made of a unique ultra-high molecular weight polyethylene material (UHMWPE), also known as Dyneema/Spectra or high-modulus polyethylene (HMPE). This material is known for its extreme strength and low stretch.
Description:

This Bridle rope has been fully sheathed into one piece, can be used as a tree trunk protector and extension for kinetic rope or snatch strap.
UV resistant, waterproof and more durable

Very light, can float in water

Both ends have protective sleeves and are fully sheathed

Australian-made, Australian tested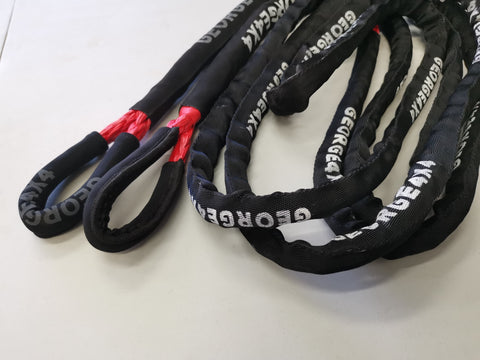 Features:
13mm,

 

rated 14000kg

Item # 1713140FS4 for 4m

Item # 1713140FS5 for 5m

Item # 1713140FS6 for 6m
Standard length available:
4m/5m/6m
Custom length acceptable!
Contact us: sales@george4x4.com.au 
NOTE: There might be a slight length difference as each rope is spliced by hand.
Tips: Do not allow it to rub against any sharp edges!