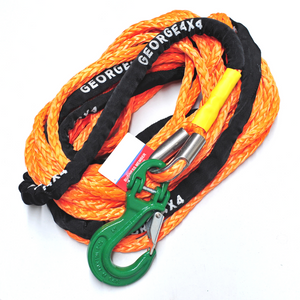 George4x4 SYNTHETIC WINCH ROPE Heavy Duty
FEATURES:
Size: 11mm, rated breaking 11000kg,

suit for 12000lbs to 17000lbs winches

total length: 26meters

Heavy Duty Stainless steel Thimble Eye

Heavy Duty Winch Hook

Made of Synthetic rope, very light, can float in water
High Abrasion resistance and good UV resistance
No stretch, easy handling
Heavy duty Reinforced eyelets with GEORGE4X4 STAINLESS STEEL THIMBLE
Spliced in Australia
standard length 26 meters

Item # 461111WH
Custom length is acceptable. Contact via email sales@george4x4.com.au
TIPS:
Do not allow it to rub against any sharp edges! (rock, stone, concrete and etc.)
Do not pull out the full length when in operation (stop pulling when the black cover shows).

Use the extension rope or strap if the rope isn't long enough.