SNATCH STRAP 
To rescue a vehicle stuck in sand or mud, use a snatch strap, which can stretch 10-20% under load and stores kinetic energy.
Description:
Using a snatch strap is necessary when you or your mates are stuck in sand or mud. This strap is unique in that it can stretch 10% to 20% under load. The kinetic energy stored in the strap is used to pull vehicles out of sand or mud. Shackles should accompany snatch straps as they are an essential part of the recovery process.
George4x4 snatch straps are made of top quality 100% nylon
Highly elastic that can be elongated up to 20%
UV-resistant, waterproof and more durable
Both ends have reinforced eyelets
Comes with 2pcs removable sleeves
VISIBLE colour-orange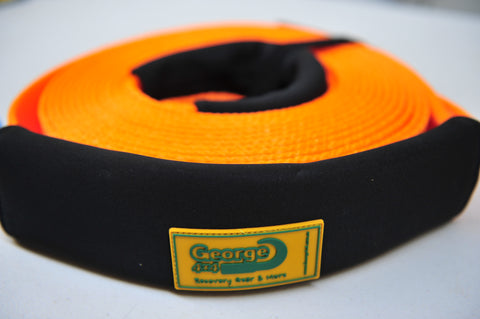 Features:
Tips:
Do not use towing balls as the recovery point.
Avoid sharp edges when connecting directly.
Only use rated shackles and rated recovery points.
Always clean the strap after each use.
Do not use if there are any signs of tearing or fraying.
Do not connect with hardware that is not 100% rated.