George4x4 Bridle Equaliser Rope
George4x4 Bridle Rope is constructed of a unique ultra-high molecular weight polyethylene material(UHMWPE), also known as Dyneema/Spectra. It is extremely high-strength and low-stretch.
Description: 
UV resistant, waterproof and more durable

Very light, can float in water

Both ends have protective sleeves and one sliding sleeve on the middle

Australian-made, Australian tested

Works with 5000kg Kinetic ropes

Suits for small 4x4 such as Jimny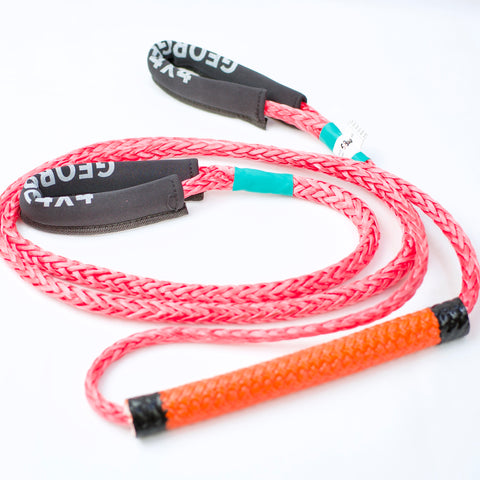 Features:
8mm,

 Minimum Breaking force 

straight pulling 5800kg, for two anchor points 9286kg, which is 1.6 times of straight pulling.

Visible

 colour-pink

Item # 17080583 for 3m

Item # 17080584 for 4m

Item # 17080585 for 5m
Standard length available:
3m/4m/5m
Custom length acceptable!
Contact us: sales@george4x4.com.au 
NOTE: There might be a slight length difference as each rope is spliced by hand.
Tips: Do not allow it to rub against any sharp edges!