Revolutionizing Vehicle Recovery-Innovative New Products
Off-roading is an exciting and challenging activity that requires a range of specialized equipment, including recovery gear. It is essential to have reliable and safe equipment to ensure that any vehicle recovery process goes smoothly, without risking the safety of those involved. Recently, George4x4, an Australian-based company, launched three new products to make vehicle recovery safer and lighter: the Button Knot Winch Rope (BKWR), Soft Extension Sling (SES), and Soft Extension Loop (SEL). 
All three of these new products are made of a unique ultra-high molecular weight polyethylene material (UHMWPE), also known as Dyneema/Spectra or high-modulus polyethylene (HMPE). This material is recognized for its extreme strength and low stretch, making it an ideal choice for vehicle recovery. 
The Button Knot Winch Rope (BKWR)
The BKWR (Button Knot Winch Rope) differs from traditional winch ropes by using a button knot instead of a hook as the point of attachment. This eliminates all metal from the recovery system. The knot can be tightly pulled up against the fairlead, protecting the load-bearing portion of the rope and limiting potential damage.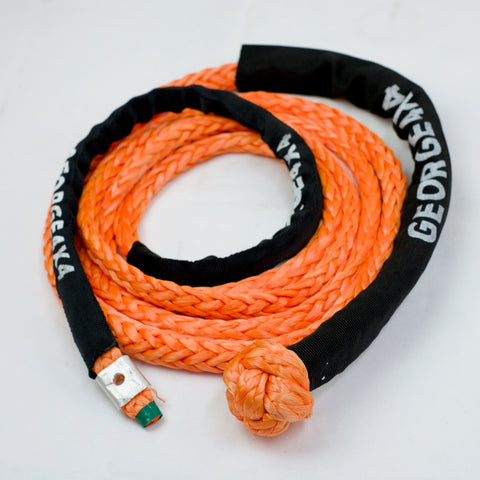 The Soft Extension Sling (SES)
The SES is a versatile product that can be used as a winch rope extension or as a giant soft shackle. It works with the BKWR to extend the rope or replace a traditional hook. Made of soft and flexible material, the SES can be used in innovative ways, such as looping it around a vehicle tire or structure to recover vehicles in unconventional ways.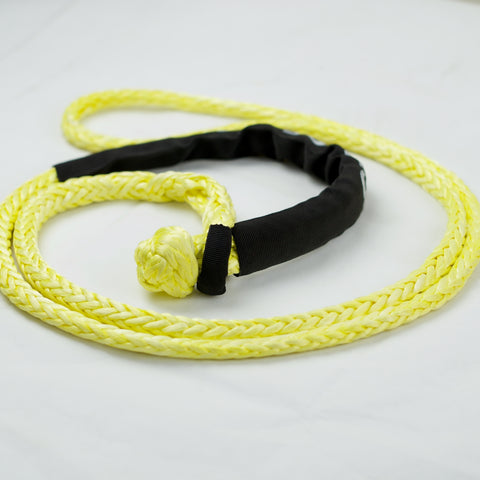 The Soft Extension Loop (SEL)
The SEL is used with the BKWR system to attach the rope to the recovery system. It can be looped through tree trunk protectors or other items that would typically be connected to the system by a hook. The SEL consists of two constricting loops that can be applied to the BKWR for a secure and metal-free attachment.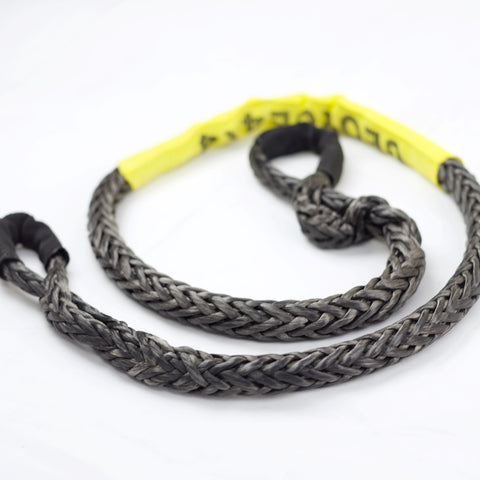 Load Ratings and Safety Factors
When it comes to vehicle recovery, load ratings and safety factors are essential to ensure the safety of everyone involved.
Determining Load Rating
Recovery Equipment should be used at a 2:1 Safety Factor to prevent failure from dynamic overloads or cyclic loads. However, routine inspections are still necessary to check for signs of wear or damage.
To calculate recovery safety factors, apply a 2:1 safety factor when using a Recovery Ring and angle-based reductions.
George4x4 uses kg for system ratings to simplify matters, although tests are conducted in kN. This is to align easily with lbs used in winches and similar recovery system practices.
Standard conversions for winches from lbs to kg are:
8,500lbs = 3856kg
9,000lbs = 4083kg
10,000lbs = 4536kg
11,000lbs = 4990kg
12,000lbs = 5445kg
All numbers are rounded up to the nearest kg.
The provided ratings are for the bottom layer of the winch, and actual loads will be lower. For single-line pulls, use twice the winch rating for all equipment. For double-line pulls, the winch ring almost doubles the force generated. Ratings are in Minimum Breaking Strain (MBS), different from lifting ratings. Avoid steel shackles unless soft shackles won't work. Soft shackles mustn't be used where they'll bear against sharp edges, like laser-cut recovery points.
Conclusion
Off-roading can be a thrilling adventure, but it's crucial to prioritize safety during any vehicle recovery process. George4x4's new products aim to make vehicle recovery safer and lighter, with the BKWR, SES, and SEL offering innovative and metal-free solutions. Load ratings and safety factors are critical, and it's essential to use the correct equipment for any recovery process. If you're looking for reliable and safe recovery equipment, George4x4's new products are an excellent choice.